·      Want to go from chaos to calmer?
·      Pick up effective tools and techniques to combat anxious thoughts?
·      Deepen your understanding of anxiety and how it affects your mind and body?
·      Access two self-paced workshops and a 24-page workbook, each created and led by me, award-winning trainer Amber Cowburn?
If you've nodded yes to each question, the Chaos to Calmer Bundle is the toolkit you've been looking for!

Enrol now to make an amazing bundle saving of more than £25.
Let's understand and manage anxious thoughts, together.

What's inside
The Chaos to Calmer Bundle includes two on-demand courses and a downloadable workbook.
They're each bursting with easy-to-understand information and actionable strategies for managing anxiety.
Click each resource below to take a closer look!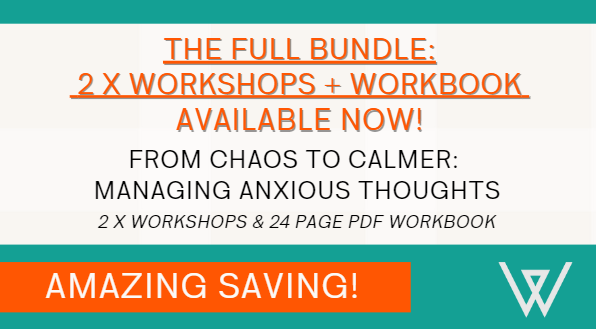 The Chaos to Calmer Bundle will...
·      Empower and upskill you with tools and strategies for managing anxious thoughts. 
·      Get you totally clued-up on what anxiety is (and how to calm and quieten it).
·      Help you manage anxious thoughts with confidence. 
·      Refresh your knowledge on the foundations of wellbeing – and getting them right!
·      Prepare you to manage your anxious thoughts (or to support somebody else).
Enrol now to access a brilliant discount. I'll see you soon!